Love Letters, From Mom: 365 Love Letters Week 29
This week was one of my favorite weeks for these so far. I especially love Day 219, which I wrote yesterday. I told my husband the little saying I adapted and he laughed at my excitement.
"You're saying it as if you're the next Shakespeare" he told me. Oh yea? well maybe it will become famous someday. Then he told me Britney Spears and Rihanna already beat me to revising the sticks and stones saying. You know what? Whatever, I like it, and I'll continue to tell it to Lil' J as she grows up. One day when everyone at her school is saying it she can tell them I started it all.
Some of these photos may loo familiar this week since last week I did a good job of updating my blog. Let's hope I can keep it up.
Did you write a love letter this week? Link up below! All I ask is that you link back to this page so others can play along please. I'll visit and comment on them all, as others will too I'm sure!
*
Commenter #1 Seana won the hair clip giveaway from last week! Congrats! I'll email you so you can claim your prize!
Mudpie dress from BNB.
Our trip to the candy store.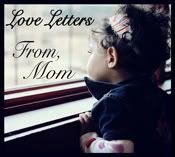 (highlight and push "CTL and C" to copy the button)
Labels: 365 love letters, love letters